The Dangerous Volkswagen Jetta Defect That Could Burn Your Backside
An estimated 289+ million registered vehicles are cruising the streets of the United States, and many of them have recalls. Believe it or not, there was a time when vehicle recalls were uncommon. That's not the case anymore, and it's actually more shocking if a car from any automaker isn't recalled at some point. In 2021 alone, the National Highway Traffic Safety Administration (NHTSA) issued over 1,000 safety recalls impacting some 35 million vehicles and equipment.
Automakers have seen a 42% increase in recalls since 2014, with the highest percentage (26%) stemming from glitches in electronics or software. That's not a shock given that most of today's cars are run by highly sophisticated onboard computers more powerful than those used in the early NASA space missions. The NHTSA has issued over 12,000 recalls since 2000, affecting millions of vehicles, with most of those made by GM, Ford, and Chrysler. Data from Carfax suggests that some 50 million vehicles on the road still have recalls that haven't been fixed.

And Volkswagen is not immune. Since 1972, VW has issued 1,165 recalls globally. One of its more recent recalls is centered on airbags made by Takata, which can explode and send pieces of metal at the passenger or even fail to inflate properly. From January 1985 to September 2016, the VW Group had the industry's highest recall rate (1,800 recalls per 1,000 vehicles sold).
While Volkswagen's Jetta is still considered one of the best-selling vehicles the German carmaker offers, the vehicle has had 172 recalls since 1980, accounting for almost 15% of VW's total recalls since 1972 (via Auto Recalls For Consumers).
This is one instance where you don't want a fire lit under you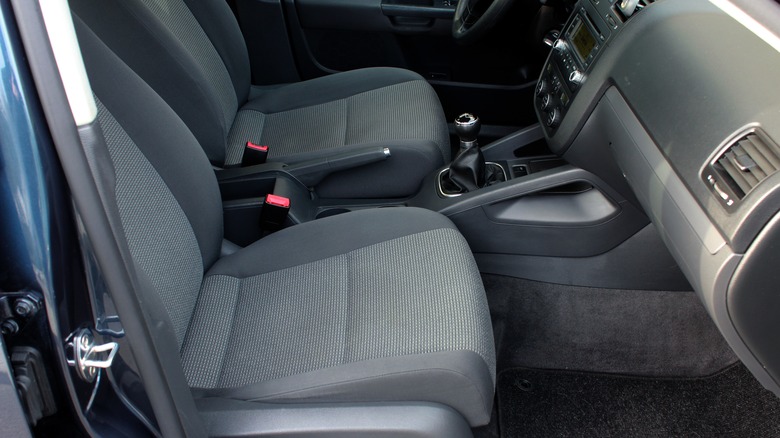 Best Auto Photo/Shutterstock
One issue that came to light involved the seat heaters in the 2002 to 2004 model year Jettas, Golfs, and GTIs. According to a letter from Volkswagen of America at the time, the heated seats could malfunction, and "the occupant may experience excessive heat in a small area." It went on to say that "in extreme cases, the overheating could cause damage to objects in contact with the seat cushion." Such as clothes and skin.
In one case from 2013 by CBC Radio-Canada, a woman in British Columbia had just left her house in her 2004 Jetta — with her young daughter in the backseat — when she "smelled smoke and felt her jeans burnings." When she contacted Volkswagen Canada, it said some 94,000 vehicles were recalled and repaired. Still, it refused to pay for the cost of fixing her Jetta because the recall expired in December of 2007, and the limited warranty extension expired at the end of 2008. Both occurred long before she even had the car. She discovered another recall on VW vehicles due to seat warmer issues in cars made between 1990 and 1997.
According to Car Complaints, a website where customers can file complaints about their vehicles, the seat warmer issue had been logged over 600 times on just the 2003 model Jettas, with customers reporting 41 fires, 33 injuries, and even one death.
While customers should regard online complaints with some reservation, a mountain of verifiable evidence does point to this being an industry-wide problem that's been going on for many years in many different makes, models, and brands. Even high-end cars like Cadillac, Mercedes, and BWM aren't immune to the issue that has ignited the ire of many car owners.